From drone navigation to ocean microplastic to the effect of turbulence on combustion, this year's Research Day showcased the breadth of topics under investigation by Princeton MAE graduate students.
Research Day exposes incoming students to the "broad variety of things we do in the department," said Michael Mueller, professor and director of graduate studies. Welcoming new students is one of the most exciting days of the year, he said. 
Organized by the Graduate Student Committee, Research Day also gives advanced graduate students a chance to practice presenting research to fellow engineers who may not be experts in their area of interest. 
Image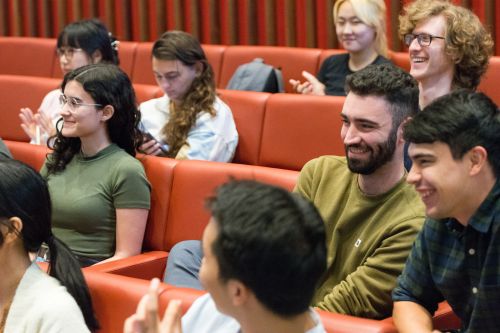 "It's a unique opportunity for graduate students to present their work to the department as a whole," said Ph.D. student Paul Kaneelil. Because not everyone in the audience is an expert on your topic, "it pushes you to be a better communicator" and to think about your work in the "most fundamental and elementary" way. 
Nate Simon and Alec Farid presented in control, robotics, and dynamical systems; Dan Shaw and Paul Kaneelil in fluid mechanics; Tejas Dethe in materials science; and Katie VanderKam in propulsion and energy sciences.
Following the presentations, Professor Mueller announced a series of graduate school fellowships and prizes, further highlighting outstanding graduate work across the department.
The fellowships and awards were:
Summerfield Fellowship: Giovanna Silveira Amorim Rocha
Guggenheim Fellowship: Zhiyu Shi and Mohd Shaharyar Wani
Phillips Fellowship: Nick Conlin
MAE Department Fellowship: Hannah Williams and Greg Macchio
Harari Fellowship: Allen Ren and Francisco Saenz-Castro
Charlotte Elizabeth Procter Honorific Fellowship: Cristian Lacey
Crocco Award: David Snyder, Allen Ren, and Eric Lepowsky