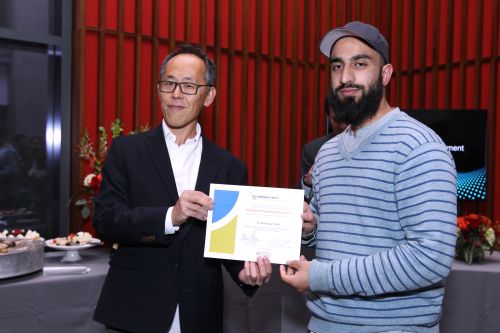 Shaharyar Wani, a second year graduate student in the Department of Mechanical and Aerospace Engineering, has been recognized for his research presentation at the 2022 Annual Meeting of the Andlinger Center for Energy and the Environment.
The award comes with a $500 prize and recognizes an outstanding presentation by a graduate student. Forty one undergraduates, graduate students and postdoctoral researchers from across the university presented at the annual meeting. Wani's presentation was selected out of all the graduate student presentations by a vote of everyone who attended. 
He shared his work on developing aerogels — lightweight, porous materials — from egg whites. When heated at high temperatures, the egg whites form a graphene fiber aerogel that can be used for a variety of applications, including water purification, water desalination, and energy storage and conversion. Wani's adviser, Professor Craig Arnold, recently published results on related research. 
Shaharyar, a Guggenheim Fellow, earned a bachelor's degree in mechanical engineering from the University of Kashmir and a master's in energy sciences from Jamia Millia Islamia. His research focuses on engineering bio-derived graphene aerogels for energy and water applications. He has published research in the Journal of Electronic Materials and ACS Applied Materials & Interfaces. After completing his doctorate, Wani hopes to work on global energy and water challenges.