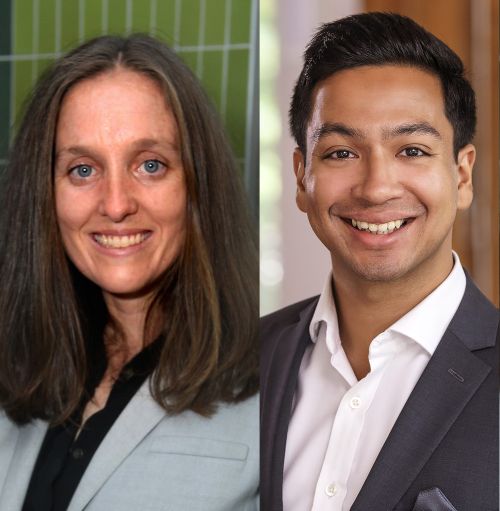 Professors Kelsey Hatzell and Anirudha Majumdar have received Young Investigator Program awards from the Office of Naval Research (ONR). 
The Young Investigator Program is a highly competitive and popular early-career award program which recognizes academic achievement and potential for significant scientific breakthrough.
Hatzell is an assistant professor of mechanical and aerospace engineering and the Andlinger Center for Energy and the Environment. A specialist in the field of batteries and energy storage, her lab focuses on the fundamental questions related to dynamic processes that occur at solid-solid and solid-liquid interfaces in batteries and energy conversion systems. 
Majumdar is an assistant professor of mechanical and aerospace engineering and associated faculty in the department of computer science. His research focuses on the control of highly agile robotic systems, such as unmanned aerial vehicles. His lab develops theoretical and algorithmic approaches that enable highly-agile robotic systems to operate in complex environments.
Established in 1985, the ONR Young Investigator Program is one of the nation's oldest and most selective basic-research, early-career awards in science and technology. Its purpose is to fund tenure-track academic researchers, or equivalent, whose scientific pursuits show outstanding promise for supporting the Department of Defense, while also promoting their professional development.