Robert H. Socolow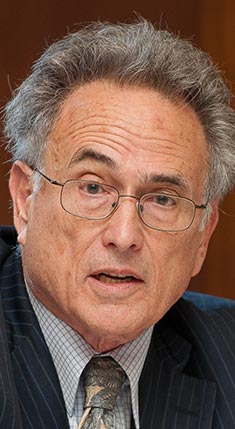 Title/Position
Professor Emeritus
Senior Research Scholar
Degree
Ph.D., Harvard University, 1964
Other Affiliations
Co-Director, The Carbon Mitigation Initiative, Princeton Environmental Institute
Fellow of the American Academy of Arts and Sciences
Lifetime National Associate of the National Research Council of the National Academies
Fellow of the American Physical Society
Fellow of the American Association for the Advancement of Science
Faculty Assistant
Caitlin Daley
Short Bio
Robert Socolow is Professor Emeritus of Mechanical and Aerospace Engineering at Princeton University. His current research focuses on global carbon management and fossil-carbon sequestration. He is the co-principal investigator (with ecologist, Stephen Pacala) of Princeton University's Carbon Mitigation Initiative (CMI), a twenty-year (2000-2020) research project supported by BP (and formerly by Ford). Under CMI, Princeton has launched new, coordinated research in environmental science, energy technology, geological engineering, and public policy.
Pacala and Socolow are the authors of "Stabilization wedges: Solving the climate problem for the next 50 years with current technologies" (Science, August 13, 2004). Socolow recently served on two committees of the National Academies: "America's Energy Future" and "America's Climate Choices." He was a member of the Grand Challenges for Engineering Committee of the National Academy of Engineering. He was the editor of Annual Review of Energy and the Environment, 1992-2002. Socolow received a Ph.D. in theoretical high energy physics in l964 from Harvard University. He was an assistant professor of physics at Yale University from l966 to l97l. He was awarded the 2003 Leo Szilard Lectureship Award by the American Physical Society: "For leadership in establishing energy and environmental problems as legitimate research fields for physicists, and for demonstrating that these broadly defined problems can be addressed with the highest scientific standards."
Selected Publications
B. P. Rand, F. Meggers, W.C. Witt, M. Gokhale, S. Walter, R. H. Socolow, "Sunlight to Electricity: Navigating the Field." An Energy Technology Distillate of the Andlinger Center for Energy and the Environment, Princeton University. Forthcoming, July 2017.

R.H. Socolow, Climate Change and Destiny Studies: Creating Our Near and Far Futures, Bulletin of the Atomic Scientists. 71, 6, November 2015.

R. H. Socolow, Truths We Must Tell Ourselves to Manage Climate Change. Vanderbilt Law Review, 65, 1455-1478 (2012).

R H. Socolow, M. Desmond, R. Alnes, J. Blackstock, O. Bolland, T. Kaarsberg, N. Lewis, M. Mazzotti, A. Pfeffer, K. Sawyer, J. Siirola, B. Smit, and J.r Wilcox, Direct Air capture of CO2 with chemicals: A technology assessment for the APS Panel on Public Affairrs. APS, June 1, 2011.

S. W. Pacala, R.H. Socolow, Stabilization wedges: solving the climate problem for the next 50 years with current technologies. Science. 305, 968-972 (2004).