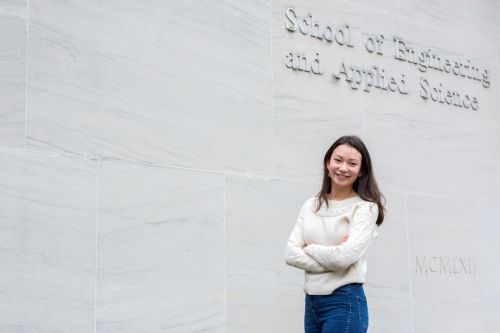 For Princeton junior An-Ya Olson, you might say it started with pistachio nuts.
We've all felt the frustration Olson felt as a child, when she couldn't crack a nut open. Some of course have gaps large enough to pry open with a fingernail. Some were closed, a cruel hoax meant to challenge mere mortals.
Or, future engineering majors. So, Olson's first ambition was an implement to crack open pistachios.
Olson, a junior in Princeton's school of Mechanical & Aerospace Engineering, cannot draw an exact through line from nutcracking dreams to her current status as a pending B.S.E. But it clearly was not mere happenstance either.
"I was always interested in engineering-related things," Olson says during a February Zoom chat. She was curious about how things like bridges and buildings were constructed and recyclable items were used for invention-themed birthday parties.
But take a quick look at one of Olson's undergraduate courses, and the other defining passion of her life is evident: Transformations in Engineering and the Arts.
With her sister, two years her senior, as a model, Olson flung herself into an arts infatuation that comprises among other things, ballet and the harp.
She is the president of the Princeton Expressions Dance Company and was, for a time, Publicity Chair for the Princeton University Ballet.
As far as the harp? Well, there was in the spring of 2018 the Fourier series analysis of harp design and an earlier project where she designed and implemented approaches to plot the acoustic sound field of the harp.
These both occurred before she graduated as Valedictorian with Full International Baccalaureate from Washington-Lee High School in her hometown of Arlington, VA in 2018.
In her last two years of high school, she "went along because I was good at it," she says of the harp. But she already felt that academia had pushed the arts aside, at least as far as career endeavors were concerned.
Conversely, she explains how when she was young, she "did school because I had to." But courses became more interesting in high school "once I could choose courses and topics that interested me."
In a chemistry class, she measured the decibel levels at different angles around the harp and the marriage of arts and sciences in Olson's life was cemented.
She says that the arts and sciences are more closely related than might be obvious to most people. "Engineering and the arts are both very creative," she explains. "A lot of the skills I learned as a performing artist I can bring to engineering."
As she was applying to colleges she had "come to terms with the fact that I wasn't doing music as a career." She was still at the time considering a double major.
"I like performing for others," she says, while explaining that she doesn't really like practicing that much and could not imagine playing on stage as a soloist or part of an orchestra.
"The music world is very cut-throat," she adds. She has friends in conservatories who have struggled and "aren't so enthused about music anymore."
Good thing Olson has other things going for her.
In her first two years at Princeton, she took a variety of engineering and MAE pre-requisites which were "important for setting foundations. It gave me time to figure out what I liked most."
What she seems to like most is the aerospace industry. The interest in astrophysics started in her senior year of high school and blossomed once she became a Brooke Owens Fellow, Class of 2021, following an application process that Olson calls "daunting." But she "forced herself" to complete her essays and other requirements and now has been set up to intern with Maxar Technologies, where she will work with the Earth Intelligence Systems team.
The Owens fellowship is a program that recognizes undergraduate women and gender minorities in aerospace.
She would be, were it not for Covid, interning in Westminster, CO for Maxar this summer but she is optimistic it will still be a rewarding experience even though she'll be back in Arlington doing work that will include building satellites for earth data imaging, compiling climate change data and more.
This will of course not be the first time Olson will be dealing with a pandemic disruption.
Like other PU students, Olson had to clear out of her dorm last March and head back to Virginia to live with her mom. Her parents are divorced so she sometimes would spend half a week living with her dad about ten minutes away.
"It was sort of surreal," she says about the moment she realized that she would be studying remotely. "Everything that seemed relevant suddenly seemed irrelevant." For the fall semester she lived with friends off-campus which was more conducive to her pursuits. "It was nice to be with other students going through the same thing." Being home, on the other hand, "was sort of like being a high schooler again."
She is now back on campus for this semester and cautiously optimistic that she will stay there until she marches down the aisle in a little over a year.
The future, for now, is uncertain. Graduate school is a likelihood, but she's not set on a particular discipline. She thinks that first she'd like to work in the aerospace industry. She finds great comfort in both the field and the people she's come in contact with.
"I'm amazed at how tight knit the community is," she says. "Everyone has been so supportive and kind."
Then, living in close proximity to, not necessarily in, a large city.
For now, she will continue her studies, her art and things that have become mainstays during and because of Covid. She misses things like going to the Kennedy Center to see ballet and the symphony. She has, like all of us, had to find other ways to fill in the unexpected gaps in our schedules.  
"I've done a lot more cooking," she says. She's also grown in a way that she probably had not anticipated.
"I've grown more grandmotherly," she jokes. "I've been doing embroidery as a side thing."
-- David Krakow