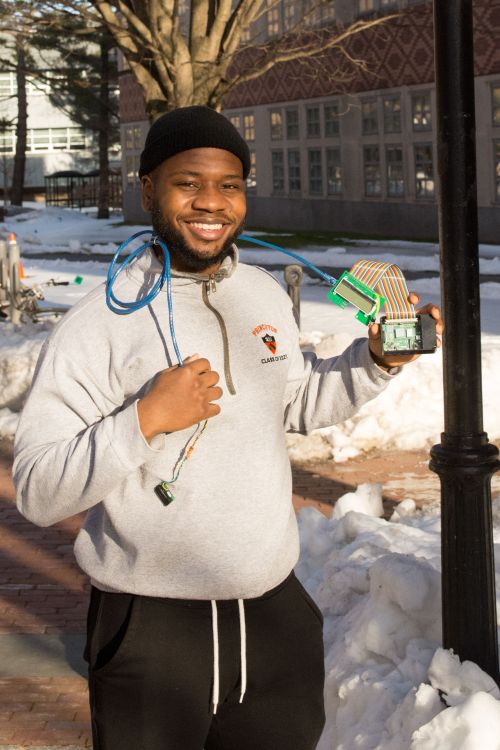 Everyone has great ideas, Tomisin Fasawe says. We simply have to find a way to listen and understand each other. Tomisin learned this important lesson as a child growing up in Nigeria, and it followed and inspired him throughout his education.
In primary school, Tomisin was taught how to add and subtract by counting piles of stones. He quickly realized it was easier to count on his hands than carry the heavy rocks back and forth to class. His teacher, however, rejected Tomisin's out-of-the box thinking, and insisted he follow a more conventional approach.
As a young learner, he was instructed to follow directions without question. But Tomisin wanted what he did to make sense. "I always wondered why we were doing something or how it fit into the bigger picture," he recalls. "I think people struggle with the fact that not everyone is like them. We may want to make universal truths or classify things based on how we see them, but everyone has a different understanding of the world."
Being surrounded by a plethora of ideas and perspectives, is what Tomisin has loved most about being an undergraduate at Princeton. Throughout his life, Tomisin has had the opportunity to dive into the minds of students, teachers, and colleagues from all over the globe. As a high school member of the African Leadership Academy and a student teacher in Slovakia, he was exposed to many unique ways of thinking. Now, as a senior in Mechanical & Aerospace Engineering, Tomisin is finding ways to harness the power of combined knowledge—that comes from putting so many different heads together—to help others. Someday, he plans to venture back home and gather teams of people with great ideas to provide engineering solutions to problems that Nigerians face every day.
"I really appreciate the fact that every time I meet someone, it is a new perspective than where I am from. The idea of people interacting and coming together truly inspires me," he says. "I am also passionate about applying engineering solutions to problems that are faced on the continent. That is why I decided to study Mechanical Engineering at Princeton — it allows you to learn about all sorts of engineering and merge them together in a myriad of ways."
Last year, for his final research thesis, Tomisin became involved in a project to help solve the challenges of the COVID-19 pandemic. As part of Professor Howard Stone's lab, Tomisin has been investigating air quality, developing sensors to measure C0₂, and calculate risk infection in the airborne transmission of viruses.
Since people produce C0₂ when they speak or simply breathe, it can be used as a proxy to detect if someone has been in a certain area. For example, if a C0₂ sensor is placed near a microwave and someone goes into the kitchen to heat up soup, the sensor will have a high reading while the person is there and then slowly decrease when the person leaves the room. The results, he says, will help inform social distancing parameters.
Research in airborne transmission has been sparse over the last century. "A lot of times we do not take things seriously until there is a problem," Tomisin explains. "This project will help us understand how we can be safer in future pandemics."
"Tomisin has a good work ethic, inquisitive attitude, and is always prepared for our regular meetings," says Professor Stone. "I always look forward to meeting with Tomisin and his partner, Celine Park, to learn about their ideas and progress and I am excited to see how their project progresses. This topic is obviously important since the evidence is that SARS-CoV-2—the virus responsible for the disease COVID-19—is primarily spread through the air."
Always thinking globally, Tomisin is the very epitome of a world citizen. He grew up in Africa, taught in Europe, and studied in the U.S. As an undergraduate, Tomisin also spent a year at Oxford as part of a student exchange program. In the fall, Seattle will be his new address—Tomisin recently accepted a job offer from Microsoft in program management.
"I love building teams as much as I enjoy working in engineering teams. As a program manager, I am involved in all the phases of design, iteration, and execution," he says. "It really is a win-win for me as an engineer who gets to talk and work with all kinds of people."
Tomisin has been marveled with programming since he was four years old. He would stay up late with his siblings playing Xbox and they would talk about how the games were designed. In high school, he spent weeks learning coding online at Khan Academy and prototyped a video game with his brother.
"Before I came to Princeton, most of my time was spent doing things I found interesting from music to sports and school activities. I didn't like to be boxed into one description or title. Whenever anything fascinated me, I learned more about it and I did it," explains Tomisin who also plays soccer and violin. "I loved being around my friends and meeting new people. One great thing about doing many types of things is that you get to meet different kinds of people."
Program management also incorporates Tomisin's favorite subject, math, which he considers to be the language of engineering. For years, after his teacher embarrassed him in class, he shied away from the subject. But the classes in his high school and at Princeton made him fall in love with math again.
Someday he hopes working for Microsoft may even bring him to Africa. Tomisin is interested in building teams on the continent that inspire and motivate people to reach solutions to everyday problems.
"Growing up on the African continent, plagued with bad leadership and corruption, my goal was to attain an education that homes in on independent thinking, creativity, as well as communal development and community service," he explains. "There is a lot of inspirational work that needs to be done back home."
Tomisin is grateful his undergraduate experience has prepared him for that venture. He always resonated with the Princetonian aspiration to prepare students for lives of service, civic engagement, and ethical leadership. At the same time, he appreciated that the campus environment nurtured a strong sense of community, high levels of engagement, and personal communication.
The journey reminds him of a line from his favorite book: Norwegian Wood by Haruki Murakami. "If you only read the books that everyone else is reading, you can only think what everyone else is thinking."
-- Carolyn Sayre