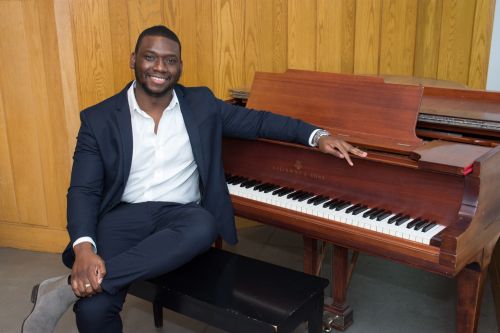 Necessity, sometimes, is the mother of invention. Or in the case of Princeton Ph.D. candidate Marcel Louis, better focus.
            Louis, 28, was born and grew up in the dual-island Caribbean nation of Trinidad and Tobago. Growing up, he was active. Very active. There was sports; there was music; there was academics. And sometimes, Louis shared in a recent Zoom chat, a yearning to be master of something as opposed to being proficient at a garden variety of things.
"I struggled to be good at one thing," says Louis, who received his M.A. in Mechanical and Aerospace Engineering from Princeton in 2020, his Ph.D., with a focus on Complex Fluids, expected in 2024. He reels off a list of youthful pursuits that, on top of academics, included playing five instruments – including piano and steelpans, a native version of steel drums – and running track and field.
About a decade ago, Louis tore his hamstring just after performing in the Penn Relays in Philadelphia, one of his first experiences in the United States. At the time he was acting in a school play and studying for his SAT's.
"There are three avenues to come here," he says about what was needed to  live and study in the United States. "There is academics, there is a track scholarship and there is the SAT's."
Well, thanks to the torn hamstring, the track scholarship was pretty much erased from that list. And, he says, his grades were not good enough to get him a government-funded scholarship. That left the SATs.
This was where, as is so often the case, parental influence and motivation came in.
Louis grew up for the most part, with his brother, in a single-parent home, his father "not really present." His mother was a teacher and eventually received her Masters which, Louis says, was rare in her generation. And she was not about to see her son fail to reach his potential.
He had good grades in primary school, aided by constant prodding from his mom. "She checked my notebooks to see if the teachers were teaching the right things," he says with a chuckle. "She would come to school and sit in class." When needed, mom would find Marcel tutors and eventually, he got into a good high school.
At this point, Louis' lens was again wide; he studied accounting, math, science and languages. But he felt a tilt towards math midway through his high school years and eventually physics and science after seeing teachers draw real-world analogies through the applications of those disciplines. And his path to his university goals was mostly set.
Louis would graduate at the top of his class with a B.S. in Mechanical Engineering from Howard University in Washington D.C. in 2017, doing research there in Computational Fluid Mechanics and Thermal Management, with a focus on Electrolyte thermal performance in Li-ion battery cells. His mom passed away during this time, further propelling his ambition.
Prior to receiving his B.A., Louis had one of the most rewarding experiences of his life, acting as project Co-Team lead with Engineers Without Borders in Haiti for a year in 2015-16. This was the apex of his desire to see his work and studies come to fruition in real life situations.
"I got to use engineering help the people there," he says about the work ,where they helped natives in a rural area create sustainable filtration systems. As Louis explains, these locals had only one water supply, and there was a prevalence of cholera as it was also a water supply for cattle who would defecate there. "It was a diagnostic visit," he explains. "We tested the water. We also did things like giving them solar power light bulbs."
Once he got to Princeton, he spent time in the Turbulence Lab before fulfilling a goal of researching under the tutelage of Professor Howard Stone and his Complex Fluids Group where he is working on Non-Newtonian Fluid Mechanics, performing experiments using a fiber cellulose suspension to remove adhered particles and bacteria such as staphylococcus aureus from surfaces, characterizing cleaning efficiency and flow field using particle image velocimetry.
Louis is also, under Stone, an Assistant Instructor in Mathematical Methods in Engineering.
After passing his generals and receiving his M.A., Louis switched from research, mostly on polymer fluids and elongational flows, to a "more motivation-heavy" project, using complex fluids to remove bacteria from surfaces, a process that is especially germane during Covid with medical devices being inserted into patients with a great need for sterilization to make them reusable.
Louis was taking his generals when Covid struck and although there were "psychological aspects to being alone in the house, a lot of ups and downs," he was in general, not hindered. "Online learning was beneficial," he says, "more relaxed."
As for his future once he has his Ph.D? Befitting someone from an island nation, he would not mind being somewhere like California or Florida though he also has a spot in his heart for Washington D.C. from his undergrad days. He finds America a bit "anxious" compared to his famously laid-back part of the world and envisions returning home after taking advantage of the resources available in the United States, maybe working in industry, starting a family.
But what he took from the experience in Haiti is never far from his thoughts as he ponders his future. "I want to get involved in humanitarian work like Engineers Without Borders while working in industry," he says. "In that end it fulfills a goal versus, say, a selfish ambition."
-- David Krakow