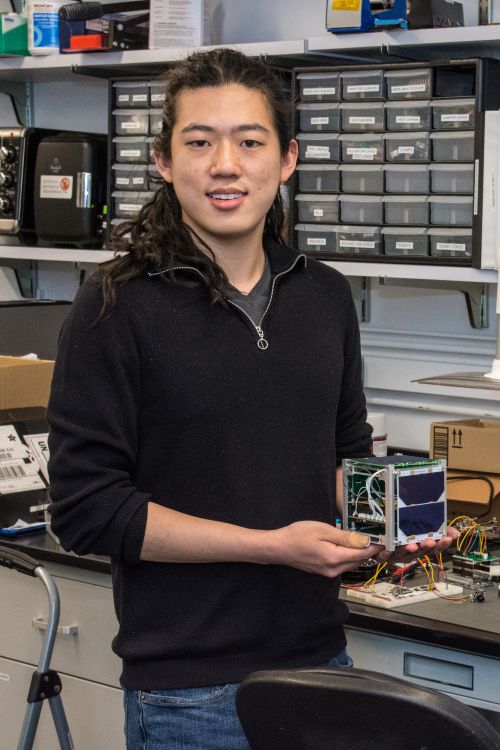 By Carolyn Sayre
March 29, 2022
Imagine leaving the dealership with a new car and a full tank of gas. But you could never refuel it or perform any major maintenance. This is the analogy Kevin Tong uses to describe the way spacecraft operate today. In the future, he aspires to be a part of changing that model by designing and building infrastructure in space.
"There is currently no cost-effective way to apply additional energy in space," explains Kevin, a senior at Princeton, majoring in Mechanical & Aerospace Engineering, who is pursuing a certificate in Robotics and Intelligence Systems. "We need to find methods of creating more effective infrastructure, such as orbital refueling or recharging and portable maintenance stations."
"This is important both for space missions and expanding our presence in the solar system. And also, for us here on the ground, so we do not waste energy and create more space junk," he adds.
Kevin came to Princeton ready to launch into a variety of research projects. Self-described as "interested in everything," he is constantly looking for ways to expand his knowledge of how the world works. From archeology digs to microfluidics and satellite design, he has spent the last four years at Princeton trying to push and improve the limits of technology.
His grand plans of designing space infrastructure involve large models. But Kevin's current senior thesis project exists on a much smaller scale: 10 cm to be exact. As part of Princeton's NanoSat Laboratory, he is developing a CubeSat nanosatellite with an Earth horizon sensor.
CubeSats are tiny box-like satellites with lightweight payloads that are sent into space. They are used to house basic science experiments involving everything from weather tracking to navigational mapping, or even gathering data on endangered species. As part of NASA's CubeSat Launch Initiative, universities like Princeton can send their designs into space for much lower cost than traditional space vehicles. More than 1,500 CubeSats have been launched in the last twenty years.
"This program is a great way to lower costs and give academics and students access to space," explains Kevin. "Instead of costing millions of dollars to design a large satellite, CubeSats can be made for a few thousand."
His current research project is part of a larger effort at the NanoSat Lab which is trying to take those cost savings a step further and show that CubeSats can be built on a shoestring budget with off-the-shelf hobby electronics. Kevin is designing an Earth horizon sensor for the CubeSat. Like an internal GPS, these sensors provide information that help spacecraft remain Earth-pointing by estimating the location of the horizon line.
"Kevin's senior thesis project is to design and implement a horizon sensor for tiny satellites like CubeSats that is an order-of-magnitude cheaper and less processor-intensive than the current state of the art," explains Michael Galvin, senior technical support in mechanical engineering who serves as Kevin's advisor on the project. "Such a sensor would further enable our Princeton CubeSat architecture, which is designed to offer the lowest bar-to-entry possible for hands-on, student-level do-it-yourself CubeSat projects, especially Earth observation missions." 
He plans to show the sensor's performance by using it to view and locate a space-like horizon scene from the high-altitude vantage point offered by a stratospheric balloon launch, adds Mr. Galvin. This will be one of the first high-altitude balloon launches conducted by a Princeton student.
As an intern at The Aerospace Corporation, Kevin co-led a concept design team that developed a mission plan to send paired CubeSats around the moon. The goal was to demonstrate CubeSat proximity operations and the feasibility of large-scale spacecraft refueling outside of low Earth orbit.
Kevin was recently awarded the 2022 Matthew Isakowitz Fellowship. The goal of the program is to inspire the next generation of aerospace leaders by connecting exceptional students with prestigious mentors and summer internships in the commercial spaceflight industry. This summer, Kevin will work at Lynk, a company that is developing a "cell tower in space."
Howard Stone, PhD, Donald R. Dixon '69 and Elizabeth W. Dixon Professor Chair, always learns something new when Kevin is around. "He is a pleasure to work with and impressive to talk to. Kevin has a hardware project related to imaging by satellites, but he is also interested in understanding the problem more quantitatively using mathematical modeling," he says.
Before Kevin became involved with the NanoSat Laboratory, he conducted research in the Complex Fluids Group with Professor Stone. He investigated the monodispersed stable bubbling regime that is produced in thin fluid films when they interact with small gas jets.
Kevin first started thinking about engineering as a career in high school. As part of the robotics team, he was involved in several FIRST Robotics Competitions. Kevin enjoyed working with his hands to build the hardware and was the one of the first students in the club to incorporate CAD software into the design process.
"The challenge with these competitions is you only have six weeks to build everything. It forces you to think quickly and tackle problems in a short period of time," he says.
A well-rounded education has always been important to Kevin. Every semester, he tries to take at least one course in the humanities like architecture, archaeology, or music. The summer after his freshman year, Kevin participated in the Archeology in the Field program and spent six weeks in Greece working on a dig site. Using a variety of tools that ranged from a wheelbarrow to laser rangefinder, he found shattered pots and buried walls dating as far back as the sixth century BCE.
Outside of the classroom, Kevin holds a leadership role with the Princeton Racing Electric. This is an ambitious student-led project to design and race an all-electric, single occupant racecar. Because of the COVID-19 pandemic, the team had to design virtually for almost two years and the final competition was canceled numerous times. Kevin looks forward to finally driving the vehicle in person for the first time this spring.
When his internship is complete this summer, Kevin's next stop is graduate school. In ten years, the senior is not sure where he will be but hopes to be working in the space industry helping make his dreams of orbital infrastructure true. "I would like to be in a hands-on type of role," Kevin describes. "It is such an exciting time in aerospace, and I am just hoping to be a part of it."