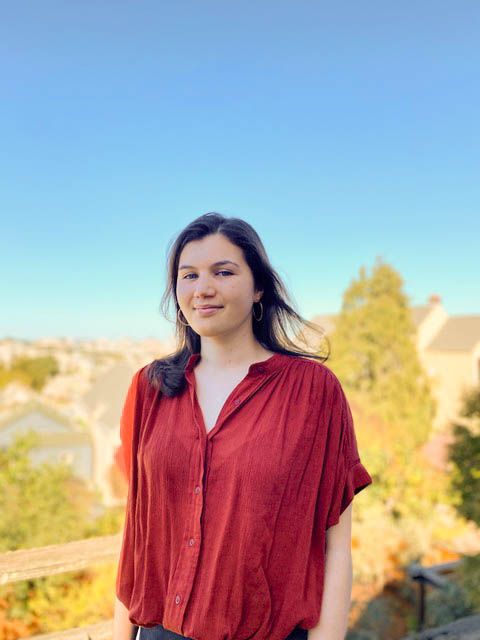 Princeton undergrad Claire Dashe will not have to worry about leaving her heart in San Francisco. Two months after she was supposed to be back on Princeton's campus, she's still there. 
In March, Dashe, 21, found out that she had to leave campus because of Covid-19. This meant returning to her family home in the Dolores Heights section of San Francisco where she had spent summers her first three years at Princeton. 
Fast forward to October and she's still there with her parents Michael and Ann. Not exactly how she expected to spend her senior year. 
"There was a lot of emotion," says Dashe about being given a week to vacate her dorm. "It happened really fast." The dorms were shut down just in time for spring break and almost all students finished the semester elsewhere. 
For Dashe, elsewhere was 3,000 miles away from where she had spent the bulk of her life since arriving on campus in the fall of 2017. "Most of my Princeton friends are on the east coast so I can't see a lot of people," she adds. 
As if senior year, a thesis to complete and graduation aren't challenging enough. 
Dashe is a candidate for a B.S.E. in the school of Mechanical and Aerospace Engineering with an expected graduation date of June, 2021. Her coursework has included Materials Science, Thermodynamics, Fluid Dynamics and many other disciplines. She had graduated as Class Valedictorian from Lycee Francais de San Francisco in 2017. Her mother is French and France is another place she has spent summers. 
But what sticks out as prominently as engineering about Dashe is her entrepreneurial streak. Though she is uncertain about what exactly her future holds, she leans towards a hybrid of engineering and business. 
"A lot of engineers have tunnel vision," she says. "Many (engineering) start-ups have brilliant ideas but no business sense. Others are great at the business but don't have a product." 
In the summer of 2018 she was an intern at Shoplook, a social commerce platform. She helped with the iOS application launch and managed the website. From 2015-17 she was a co-founder and Product Manager for Swish LLC, which allows people to rent and offer items within a community. For this she was featured in CodeGirl, a coding documentary and took second place at the Google Technovation Challenge in 2015. 
Swish was Dashe's introduction to engineering. A high school teacher recommended that she join the technovation challenge. Dashe worked on the application, did a business plan and the idea grew into Swish. "I really appreciate the work engineers do," she says. "I figured this out as I went." 
She chose MAE because of the variety of potential paths she could follow.  
At Princeton this past spring she had been working on a Search and Rescue Robot project as an Integration Engineer. She managed four design sub-teams to make sure all robot parts worked in cohesion. The wheel design team which she led used CREO software to perform analysis and optimize robot wheel dimensions. 
The only problem? The work in the lab stopped in March and the teams had to finish the project using online simulations. There are nine people working from nine different time zones, stretching the parameters of the day beyond what Dashe could have imagined. 
Dashe hopes to return to campus at some point during her senior year. She says that would be a great help while working on her thesis, where she and one other student are working on modular tiny houses, part of the Tiny House Movement, an architectural and social movement that advocates living simply in small homes, some as small as 8' x 8'. Dashe and her partner are working with solar insulated panels. Foam insulation is nestled within wood or metal frames. The idea of the homes is that they are mobile and de-emphasize consumerism. 
Dashe looks at this as another possible start up idea. 
Otherwise, she's not sure what lies beyond graduation. She might go to graduate school for engineering or mechanical engineering but "hasn't found that focus" yet for a PhD program. She's also considering an MBA. After that, she'd then like to get experience at a large company. 
She also had the advantage of plying her skills at the family business: Dashe Cellars, a 10,000 case winery owned by her parents in Alameda County outside Oakland. She helped her parents build outside wine gardens and a patio on what had formerly been a naval base. She also helped construct and install cooling systems for the wine tanks. Being that she was 18 at the time, she was technically not old enough to enjoy the fruits of her labors. 
Dashe's other passion? Animals. She was a volunteer for six years at San Francisco's SPCA, working in the Humane Education Department and Adoption Center. She is also captain of Princeton's Equestrian team, where she manages a team of 30. 
"I always thought I'd be a vet," she says. "The SPCA was my second home." 
She has two homes now, 3,000 miles apart, and a lot of uncertainty. Riding horses is "a little bit of sanity for me." One day, after the Ivy League campus and potential stints in big cities for graduate school or work, she hints at a future that aligns with her thesis: hitting the road in a tiny house. 
"I would love to live in the middle of nowhere someday," she says. 
-David Krakow