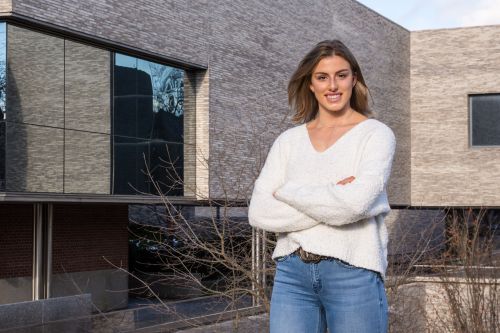 There is a delicate balance to tackling an intense MAE course load with downtime. That downtime is frequently used catching up with friends, eating, phoning home, sleeping, or pursuing hobbies. There are some who appear to be natural masters of that harmony, such as Annie Price.
Annie has actually been fine tuning those skills for many years. Because she started playing lacrosse in grade 1 and never stopped, her ability to juggle schoolwork and activities continued growing right along with her. And since this is her third year as an MAE major and a player on the Princeton University Women's Varsity Lacrosse Team, Annie is certainly an inspiration to anyone she meets.
"It is very challenging," Annie says of her class, study and sport schedules. She continues, "It means that I have to be very disciplined and have less hours in the day to get classwork done than other MAE students who do not play sports." Depending on the season, a typical day means either lacrosse practice or strength training daily for 3-4 hours. Juggling practice, games, and MAE classes successfully only happens because she is in constant communication with professors regarding missed assignments or notes and participates in study groups frequently.
According to Annie's coach, Chris Sailer, Head Coach for Princeton Lacrosse, "She's worked hard over her career to improve her skillset and grow her confidence in herself as a Division I athlete, as well as to handle all the challenges that come with balancing an engineering major and a varsity athlete. When I think of Annie, I think of all the growth she's made as a player and teammate over her first three years at Princeton. She's conquered insecurity over being a walk-on and stress about managing the high workload of an MAE major."
Annie chose the path of a maverick at a young age. Between grades 6-8, she attended three STEM events at The University of Pennsylvania, and another two WICS (Women in Computer Science) seminars. Inspired by the college women who spoke positively about the STEM field while displaying their projects, she was so enthralled by the presentations that she excitedly declared science as her future career field to her parents. Annie says, "I told them I knew I wanted to be a mechanical engineer when I was a 6th grader, after the very first time I went to a STEM event, and I really never deviated from that since then."
Her parents were very supportive, and she looks to them as strong role models too. Annie's father is the Senior Communications Advisor/Historian in the Athletic department at Princeton. Her mother, an editor with The Wall Street Journal, inspires her regularly with the assignments she undertakes. Her mother, also a former lacrosse player, practiced with Annie when she was young. She looked to her parents for guidance when she was considering colleges with a stellar
engineering program. Although many athletes are recruited, Annie applied to Princeton solely for education. It was after she was admitted that she became a "walk on" meaning joining the team the old fashioned way by trying out and becoming a player on Princeton's Ivy League Championship team. That was definitely the icing on the cake for her.
Regarding her engineering and aerospace passion, Annie says she is interested in, "the design of electric and hybrid-electric aircrafts because it is a more sustainable form of air travel when you have an electric engine or a hybrid engine with lower CO2 emissions, less noise pollution."
She was able to learn more about her field during a summer internship as an Equity Research Intern with Canaccord Genuity. Annie worked in the sustainability division focusing on furthering the bank's environmental, social, and governance (ESG) investment platform. She says her role involved, "researching all car-manufacturing companies in general and determining which of those was really sustainable or not." That information was broken down by amount of electric vehicles (EV) manufactured, development investment per company, and company dedication toward production. Her goal was to, "form the EV mobility index, so first I just had to look at car-makers in general and then use the research to narrow the index down," she explains.
Annie says she was part of a three person team, but the only engineer, researching 20 EV companies and their responses to sustainability. The work was quite intense and gave Annie the opportunity to use her charismatic leadership skills when presenting her findings to the team. Her research appeared in The Hidden Joule, an equity journal published by Canaccord Genuity. Annie says the article, "outlined the team's hypothesis around Energy Return on Investment as a key metric for ESG and its role within a biophysical economic framework." More specifically, they worked on EV mobility and developed requirements for a manufacturer to be placed in that EV mobility index as opposed to the traditional OEM index. Annie explains, "requirements included how much the company invested on producing EV's, and what percentage of the company's operation was devoted to manufacturing EV's." Tesla, for example, "has 100 percent of their cars as EV, so they are definitely in the EV mobility index," Annie continues. Finally, she says they "compared the performance of the EV vs. traditional OEM separately against the S&P 500. We saw that the EV mobility index performed better than the traditional OEM index. "
Annie's summer internship with Princeton Satellite Systems will allow her to delve further into her love of aerospace. Her focus will be on a two-stage orbit launch vehicle with an RDE combustor in the first stage engine, and a superconducting aircraft engine for the remainder of the project. And…if there is an opportunity for Annie to shine as a leader during her internship, there is a 110 percent probability that she will, in fact, do just that.
-- Verna Fisher