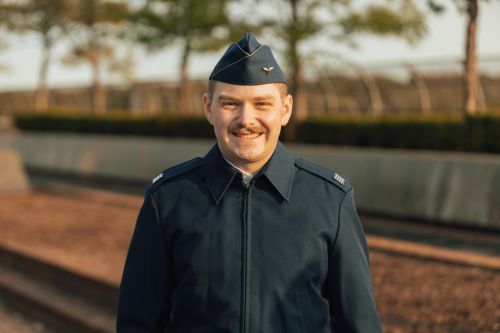 Thomas Olson, a senior studying mechanical and aerospace engineering, has received the J. Rich Steers Award from the New York City Post of the Society of American Military Engineers.
The J. Rich Steers award recognizes academic excellence and a potential for further study and practice in engineering. The award comes with a $500 prize, and Olson will be recognized during Class Day celebrations in May. 
Originally from Cohasset, Massachusetts, Olson's work in mechanical and aerospace engineering at Princeton has been driven by a military focus. He is an active cadet in the Air Force ROTC program at Princeton and is the Commander of the 485th Cadet Wing at Detachment 485 - Rutgers. As Commander, he is responsible for the military training of 77 cadets. Olson will be commissioning into the United States Air Force as a Mechanical Developmental Engineer after graduation. 
At Princeton, Olson is in a thesis group with two other senior ROTC cadets, Bradley Rindos and Eric Love. They are designing a smart tourniquet that automatically tightens and can be used in military and civilian applications.
Outside of the MAE department, Olson has studied Mandarin Chinese for three years and is pursuing fluency. He is also an officer at The Princeton Charter Club, planning social programming for 180 club members.