March 23, 2023   
By Aaron Nathans
Engineering student organizations celebrated the positive mark that faculty members and graduate teaching assistants made on students' lives and academic careers at the annual School of Engineering and Applied Science Excellence in Teaching Awards.
The teaching awards, overseen by the graduate and undergraduate engineering councils, recognize outstanding instructors in courses held during the spring semester 2021-22 and the fall semester 2022-23. Mechanical and aerospace engineering graduate students Niki Abbasi, Lena Sabidussi and Katie Wu were recognized for their excellence as teaching assistants. Abbasi for MAE 305: Mathematics in Engineering I, Sabidussi for MAE 222: Mechanics of Fluids, and Wu for MAE 501: Mathematical Methods of Engineering Analysis I.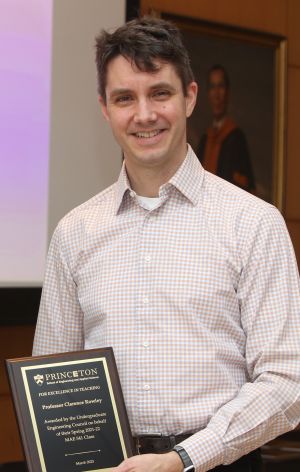 Clarence Rowley, the Sin-I Cheng Professor in Engineering Science and professor of mechanical and aerospace engineering, was honored for his teaching in MAE 541: Applied Dynamical Systems.
Jessica L. Wilson, a graduate student in mechanical and aerospace engineering, presented Rowley with his award. She took an applied dynamical systems class with him, and said he regularly showed his passion for the subject in part by using colorful chalk for extra clarity to draw complicated images of dynamics.
"In going about his teaching in such an artistic way, he also impressed us with his deep appreciation for the beauty of the subject," Wilson said. "Thank you, Clancy, for sharing your love of lifelong learning, applied math, and dynamical systems with us. Thank you also for all that you do to make your classroom and the campus at large a good learning environment," Wilson said.
Dean Andrea Goldsmith, who gave an introduction, noted that the awards are selected by students, and that the dean's office has no say in who wins.
"It's a wonderful tradition," Goldsmith said. "We're here to celebrate the winners, congratulate the winners, recognize the importance of outstanding teaching by our faculty and by our wonderful students."
"These educators creatively taught their students in the lecture hall and classroom by offering real-world applications and different methods for solving problems," said Caroline Zhao, president of the undergraduate engineering council and a sophomore majoring in chemical and biological engineering. "In office hours they were eager to help their students grasp difficult concepts, and they were willing to stay as long as necessary."
This story originally appeared on the School of Engineering and Applied Science website.