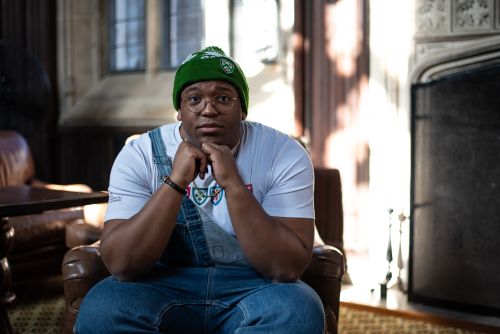 Senior Jackson Artis has been named as one of ten winners of the 2020 Spirit of Princeton Award, honoring Princeton University undergraduates for positive contributions to campus life. The award recognizes those who have demonstrated a strong commitment to the undergraduate experience through dedicated efforts in student organizations, athletics, community service, religious life, residential life and the arts.
Jackson Artis is a senior from Plainfield, New Jersey, majoring in mechanical and aerospace engineering with certificates in Chinese language and robotics and intelligent systems. During his time at Princeton, Jackson was a member of Fuzzy Dice Improv comedy and will serve as the Fuzzy Dice Alumni Board Director upon graduation. He spent his senior year as the Co-Host of All-Nighter, Princeton's first late night comedy talk show and was a member of a number of Theatre department thesis productions. He was a member of Princeton Christian Fellowship and the Cannon Dial Elm Club. Jackson was an active member of the Princeton Powerlifting team, competing four times and qualifying for Collegiate nationals three times. Jackson began his independent music career his sophomore year at Princeton, releasing 3 albums and 2 EPs and becoming one of the original members of the Meal Plan Collective. Jackson worked as a studio manager for the Ultraviolet Studio on campus. Jackson spent his last two years as a residential college adviser (RCA) in Rockefeller College, of which he is now a member. 
Congratulations Jackson!