Description
The Asian American Academy of Science and Engineering invites you to join them for their Distinguished Lecture featuring Charles Bolden, 12th Administrator of the National Aeronautics and Space Administration (NASA). 
Charles Bolden was privileged to be on hand for major changes in both the strategic plan for the Aeronautics Research Mission Directorate (ARMD) and the method of conduct of human space flight for the Nation's civil space agency. 
This lecture will provide snippets of Bolden's recollections from this eight-year experience at the helm of NASA and it will attempt to take the audience on a brief walk down memory lane. He will invite you to travel with him from the height of the Cold War and morphing of the National Advisory Committee for Aeronautics (NACA) into the NASA in 1958 in response to the surprise launch and orbital flight of the Soviet Union's Sputnik communications satellite.  He will also discuss NASA's early days of human space flight with the Mercury and Gemini Programs, culminating in the Apollo Program and humanity's first successful mission sending a human to the Moon. He'll also discuss the current status of the space program, with the International Space Station (ISS) and NASA's plans for returning humans to the Moon with its Artemis Program and venturing to Mars within the next 20 years.
Dr. Vigor Yang, Ralph N. Read Chair and Regents' Professor, Georgia Institute of Technology with moderate the discussion. Ryne Beeson, professor of mechanical and aerospace engineering at Princeton, will serve as a panelist. 
Co-Sponsors: Asian American Academy of Science and Engineering, American Institute of Aeronautics and Astronautics, Princeton Asian-American Students Association, Princeton University Department of Mechanical and Aerospace Engineering 
Event Image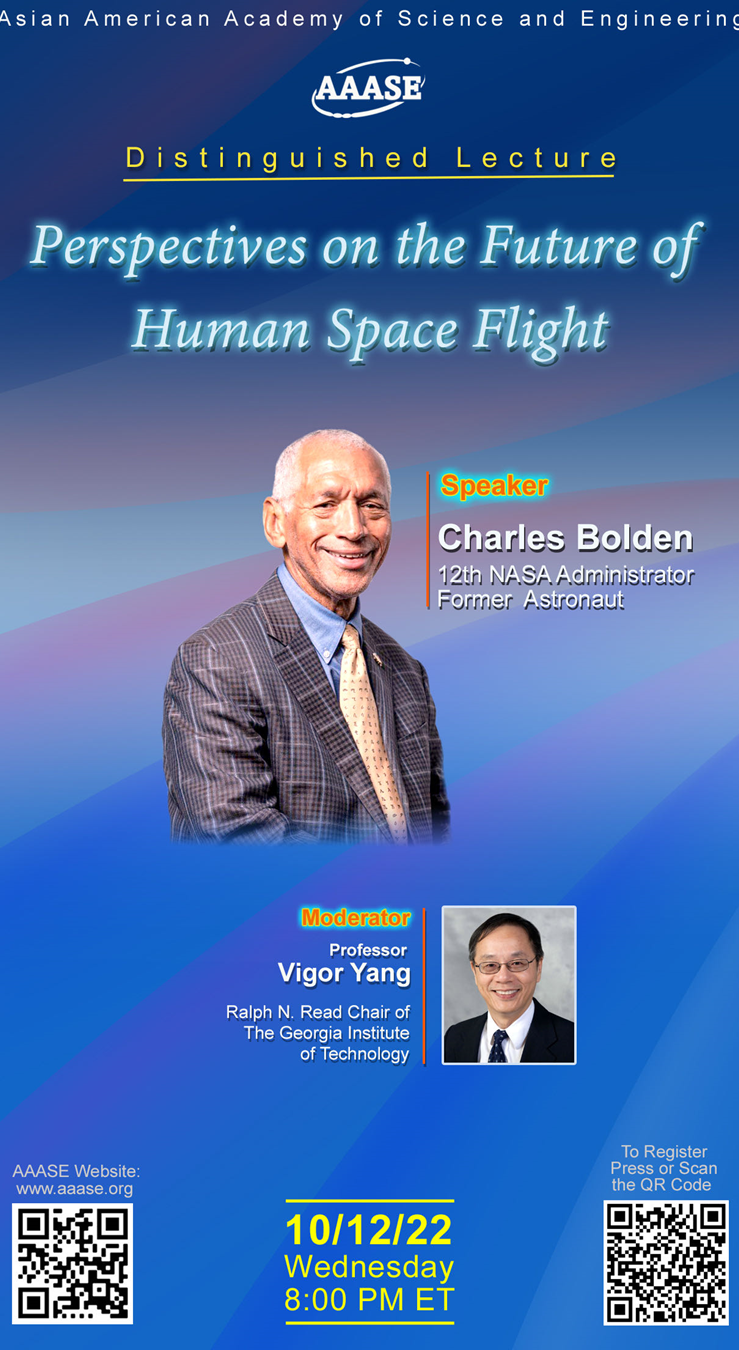 Speaker Bio
Charles Bolden is a former astronaut and NASA administrator. First as a Marine Corps Major General and then as NASA Administrator, Charles F. Bolden Jr. has dedicated his life to the service of the United States, working to secure our nation's security, prosperity, and guiding efforts to explore our universe and better understand our fragile planet. Appointed in 2009 by President Barack Obama to lead NASA, he is only the second astronaut to hold that position. Bolden oversaw the transition from the Space Shuttle system to a new era of exploration, fully focused on the International Space Station (ISS) and aeronautics technology development.