Location
EQuad J Wing
J223 (or zoom at https://princeton.zoom.us/j/94167707724)
Series/Event Type
MAE Departmental Seminars
---
Topics:
Blue Origin vision
Programs: New Shepard, New Glenn, Rocket Engines, Advanced Development Programs (Orbital Reef…)
Students and Young Graduate opportunities
(Lunch will be provided)
Speaker Bio
Pier Michele Roviera graduated in Aeronautical Engineering from the Politecnico of Turin in 1991, with a Master Thesis on the minimization of the induced drag on unconventional aircraft configurations carried out at the ISAE-Sup'Aero in Toulouse, France.
After serving as an Officer in the Navy from 1991-1993, in 1993 he joined Arianespace Operations Directorate, first on Ariane IV and then Ariane V, at the Europe's Spaceport in Kourou (French Guiana).
In 2001 he joined the Space Transportation Directorate of the European Space Agency, occupying different engineering and management positions, including Launchers Ground Segment Project Manager, with oversight on all ESA launchers manufacturing and test facilities in Europe and Guyana. In 2014 he moved to the ESA Washington DC Office as Sr. Advisor for Space Transportation Systems.
In 2018 he decided to quit ESA and joined Virgin Orbit as Senior Principal Engineer for Operations, sharing his worktime between Mojave and Long Beach, CA. After the 2nd LauncherOne flight (1st successful orbital mission), he returned to his "passion", the heavy-lift launch vehicle, and joined Blue Origin where he is the Senior Director for New Glenn 2nd Stage Fluid System.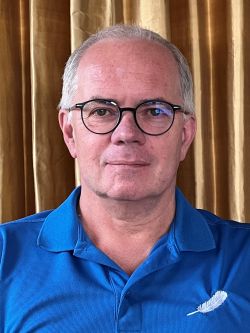 Semester