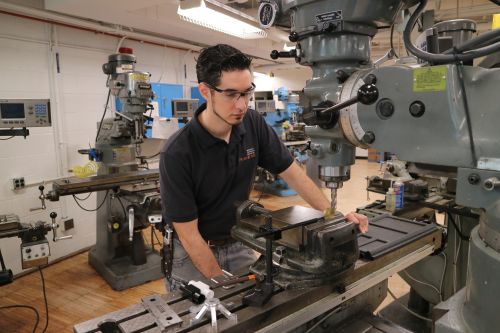 When COVID-19 first began overwhelming hospitals and the nation, staff at Princeton University did not just sit by idly. Many felt called to action to provide aid during a global pandemic that had so many gripped in fear, isolation, on the brink of financial ruin, under tremendous stress over family members' health, and worry that every cough could possibly be the beginning of the dreaded Coronavirus.
MAE Machine Shop Associate, Al Gaillard, eagerly joined a project with MAE graduate student Julie LaChance and Assistant Professor Daniel Cohen's Lab when she mentioned there was a demand for Personal Protective Equipment (PPE). That was all the motivation he needed.
Over a weekend Al made 100 disposable face shields. He says, "I used my personal printer and material to 3D Print 30 reusable headbands while MAE undergraduate student, Nick Callegari 3D printed another 30-40 headbands, all of which were donated."
MAE Machine Shop Manager Glenn Northey says in March he and Al were asked "to help out in this crisis with a design for low cost ventilators and with PPE for first responders" by MAE Department Chair Howard Stone.
Al says of the project "I am currently working with a group of Princeton Professors and Penn Medicine doctors to make flow blocks for hospital stations. I use a CNC mill to machine Delrin blocks into the shapes we need." With this undertaking, Al expressed that his machine shop abilities have been tested in ways he never expected and says "that's been a great source of personal growth." Al explains that "each flow block has to work perfectly. They have a honeycomb pattern, and a tiny chip of plastic left in a hole will block air flow. Every single part of the project has to be perfect. My type A personality got ratcheted up by about 10." 
Graduate students test each flow block after Al is done working on them. Next, they post progress through the Slack app to let the rest of the group know how the testing worked. The group, The Princeton Flow Block Team, consists of 12 people who work tirelessly on this project seven days a week. The team makes about 30 flow blocks weekly—all while they are taking and teaching classes in between this as well. Without realizing it, they have been silent heroes to their community with these remarkable accomplishments.
Glenn Northey says, "I can't say enough good about the efforts Al and the entire Princeton staff have made in this endeavor."
Assistant Professor Daniel Cohen has worked extensively with Al on several of the PPE projects and shares this about him: "Al has been of great help across the board and is exceptionally generous with his time and his own 3D printers as well as his expertise at machining and design. He is great to work with and has been instrumental in rapidly iterating prototypes for the flow sensor project, and for providing critical support for our ongoing PPE and ventilator design projects. Al did considerable at-home 3D printing for PPE work."
Image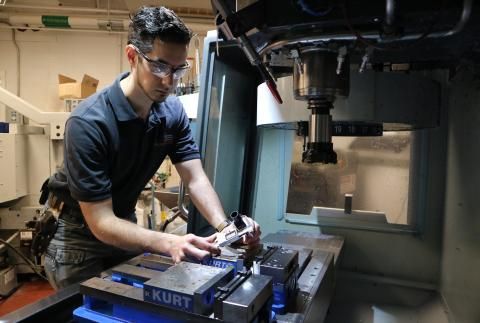 When in the machine shop, often students will ask Al if he can assist them with building. "I've been building since I could hold Legos," he says with a laugh. "I built theater set construction in middle and high school, and continued building theater designs and sculpture lab designs after high school."
Al says he "fell into this job backwards" due to his very non-traditional background which is heavy on the construction side. He also has a degree in welding and is proficient in the more advanced welding processes. His B.A. is in Interactive Multimedia, and he is working towards his master's degree in Educational Technology.
Because he has a strong construction background, he knows exactly how to help the student who comes to him with a hoverboard concern. Al explains, "the student needs to build some fairly weird parts. He will sit down with me and we will use the CAD/CAM system and make several sample parts and he might ask me to look over his numbers and how fast he's spinning a drill bit, and I can help him fine tune his work."
Al and his team made heroic achievements to help the community battle COVID-19. He would tell you it's all in a day's work, but in reality, it's the epitome of a first responder.
-Verna Fisher