Winston Soboyejo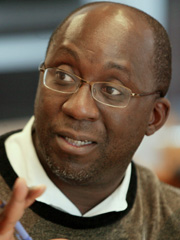 Degree
Ph.D., Cambridge University, 1988
D404B Enginering Quadrangle
Research Area(s)
Short Bio
Wole Soboyejo was educated at King's College London and The University of Cambridge before coming to the United States in 1988 to become a research scientist at The McDonnell Douglas Research Labs in St. Louis, MO. In 1992, he worked briefly as a Principal Research Engineer at the Edison Welding Institute before joining the engineering faculty of The Ohio State University in Columbus , OH. From 1997 to 1998, he was a Visiting Professor in the departments of mechanical engineering and materials science and engineering at MIT. In 1999 he was appointed as a Professor of Mechanical and Aerospace Engineering at Princeton University.
Profesor Soboyejo served for three years as the President of the African University of Science and Technology (AUST) from 2012-2014. He is a Fellow of the American Soceity of Mechanical Engineers (ASME) and the Nigerian Academy of Science. Professor Soboyejo is the author of three textbooks and more than 350 papers in peer-reviewed journals. He is also the editor of 19 books or conference proceedings on materials science and engineering. His research focuses on materials for health, energy and the environment. 
Principal Research Efforts
Biomaterials and nanoparticles for disease detection & treatment
Materials for energy and the environment
Mechanical properties of materials
Selected Publications
Jing Du, Xinrui Niu, Wole Soboyejo; Creep-assisted slow crack growth in bio-inspired dental multilayers. Journal of the Mechanical Behavior of Biomedical Materials 02/2015; 46. DOI:10.1016/j.jmbbm.2015.01.019.

Kwabena Kan-Dapaah, Nima Rahbar, Wole Soboyejo; Novel magnetic heating probe for multimodal cancer treatment; Medical Physics 04/2015; 42(5):2203. DOI:10.1118/1.4915955.

Ebenezer Annan, Kabiru Mustapha, Olushola S. Odusanya, Karen Malatesta, Winston O. Soboyejo; Statistics of Flow and the Scaling of Ceramic Water Filters: Journal of Environmental Engineering 07/2014; 140(11). DOI:10.1061/(ASCE)EE.1943-7870.0000862.

J. D. Obayemi, S. Dozie-Nwachukwu, Y. Danyuo, O.S. Odusanya, N. Anuku, K. Malatesta, W.O. Soboyejo; Biosynthesis and the conjugation of magnetite nanoparticles with luteinizing hormone releasing hormone (LHRH): Materials Science and Engineering C 01/2015; 46. DOI:10.1016/j.msec.2014.10.081.

O. K Oyewole, D. Yu, J. Du, J. Asare, V. C. Anye, A. Fashina, M. G. Z Kana, Lamination of organic solar cells and organic light emitting devices: Models and experiments, Journal of Applied Physics 118 (7), 075302, 2015.